Burg Wächter Dual-Safe 445 Security Safe with key lock SecuSafe








Exclusive products
from renowned manufacturers
Description
Features of Burg Wächter Dual-Safe 445 Security Safe with key lock SecuSafe
Certified burglary and fire protection
The Burg Wächter Dual-Safe has certified fire protection LFS 30 according to EN 15659 - 30 minutes fire protection for paper and burglary protection S2 according to EN 14450. All of your most important items are kept safe.
3 Models
The Dual-Safe Security Safes are available in 3 different sizes. All have the same burglary and fire protection and come with a shelf as standard.
Lock of your choice!
There are 2 locks to choose from for the security of your assets: The armored Double Mortise Lock "SecuSafe" or the programmable electronic lock "SecuTronic", which has an admin code, user codes and fingerprints.
Burg Wächter - Tradition and Trends
Quality and safety from Germany. Burg Wächter is a leading manufacturer for top-quality safes. The family-run concern is associated with safety and innovation since 1920.
Quick Info: Model Burg Wächter Dual-Safe
Security class S2 according to EN 14450
Fire resistance LFS 30 according to EN 15659 - 30 minutes fire protection for paper
Fire protection material DIN 4102
Double wall construction
internal hinge
2x socking for anchoring in base and back wall
Folder deep for DS 425 and DS 445
including felt base
Varnish: body light grey, door light grey
Quick Info: SecuSafe Double Mortise Lock
EN 1300, Class 2/B certified according to VdS and ECB-S
10 tumblers
50 Million different closures
If you lose a key, the closure can immediately be adjusted
with forced-locking
Key length: 124 mm
Model K
Product chart Burg Wächter Royal 51
MODEL
Outer measurements in mm
Inner measurements in mm
Capacity
Weight
Height
Width
Depth *1
Height
Width
Depth
(L)
(kg)
Dual-Safe 415
320
435
380
205
320
232
15
44
Dual-Safe 425
360
495
445
245
380
297
27
55
Dual-Safe 445
560
495
445
445
380
297
50
77
*1: The outer measurements (depth) mentioned above will increase by 70 mm due to handle fittings.
Delivery & Assembly
Kostenlose Lieferung frei Bordsteinkante
0,00 CHF
329,00 CHF
Vertragen inkl. 1 Befestigung
428,00 CHF
Vertragen inkl. 2 Befestigung
527,00 CHF
Please note the following when purchasing a safe:
The weight of the safe must not exceed the maximum static weight of the installation location and transport route
The ordered safe must not be wider than the narrowest point of the transport route. (Note: Due to any protruding fittings/electronics as well as packaging material, the outer dimensions of the safe indicated may increase!)
For a smoother transport process, it is recommended to fill out the transport questionnaire and submit it to us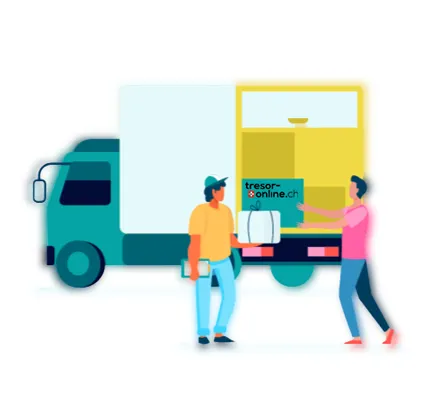 All information about delivery and assembly, as well as any possible costs can be found here: Delivery & Assembly.

If you have any further questions, please contact us at our toll-free hotline or our contact form: Consulting & Service. We are happy to assist you!
Note: We work exclusively with reputable specialized transport companies. If you have a special request for assembly or delivery, please feel free to contact us!
Characteristics
Security grade:
S2 according to EN14450
Fire resistance:
30 Minutes
Mounting:
Prepared mounting holes: floor: 2, back wall: 2
Ext. dim. HxWxD:
560x495x445 mm

Int. dim. HxWxD:
445x380x297 mm

Weight:
77 kg

Volume:
50 liter
Max. files:
4
Shelves:
1

insurance:
CHF-
CHF,-
standard sum insured private
standard sum insured commercial
certificates:


Similar products

More safes with similar product features