Müller Safe WSL1-11/26 Gun Cabinet with key lock








Exclusive products
from renowned manufacturers
Description
Features of Müller Safe WSL1-11/26 Gun Cabinet with key lock
Certified Protection
The gun cabinet WSL1 ensures perfect protection for your guns thanks to security level 1. Ideal for marksmen, hunters and professional gun.
Secure Storage of Your Rifles!
Security level 1 ensures an excellent protection from intrusion as well as a decent protection from fires. This gun cabinet is perfectly suited for the storage of a large amount of rifles, guns and ammunition.
Select Your Preferred Lock!
These safes are equipped with a security double mortise lock (including two keys) as a standard. For a slight additional charge, however, they can be delivered with an electronic combination lock. This is highly comfortable, as keys are made redundant.
Müller Safe - Tradition From Germany
The company is specialized in the manufacturing of high-quality value protection safes. This is why many financial institutions, enterprises and private clients rely on the quality of Müller safes.
Quick Information: Type Müller Safe WSL1
Security class 1 in accordance with EN 1143-1
Door and casing with a multi-layered special construction
Gun mounting made from foamed material on the back side with integrated shelf
Cleaning rod mounting on the door's inner side
Total door thickness: 74mm
Lock: Four-sided, locking, three-sided via the bolt works
Door opening angle of up to 180° due to external hinges
One socket each for anchoring in the base plate and rear wall (rear wall not drilled through)
Handle and mounting for the models WSL1 1 to WSL1K 2: protruding 30 mm (additionally to the outer measurements)
Handle and mounting for the models WSL1 6 to WSL1 12: protruding 65 mm (additionally to the outer measurements)
Varnish: RAL 7024 (Graphite grey), RAL 7035 (Light grey)
Quick Information: Double Mortise Lock

Approved security lock
Two keys
Accessible only with the keys
Delivery and Assembly Service
FREE OF CHARGE delivery to your doorstep!
If requested, we offer delivery to the point of installation!
Professional installation of the safe is provided for only a slight extra charge!
Please note when purchasing this safe:
The safe's weight must not exceed the maximal static load of neither the delivery way nor the place of installation.
The ordered safe must not be wider than the delivery way's narrowest point (Please note: The provided measurements of the safe might be bigger due to fittings / electronics and packaging material!).
For a smoother execution of the delivery commission we would encourage you to complete and submit our transport questionnaire
Further information for both delivery and installation, as well as possible extra charges, can be found here: Delivery & Installation.
If additional questions should arise, please contact us through our FREE OF CHARGE HOTLINE or through our contact form: Consultation & Service. We would love to be of assistance!
Information: We exclusively work together with reputable specialized transport enterprises. Feel free to contact us if you should have any special requests concerning the delivery and installation.
Product Chart Müller Safe WSL1
MODELL
Outer measurements in mm
Inner measurements in mm
Capacity
Weight
Height
Width
Depth *1
Height
Width
Depth
(L)
(kg)
WSL1 1/5
1250
350
350
1200
300
240
90
109
WSL1 2/7
1250
450
350
1200
400
240
120
126
WSL1 3/5
1500
350
350
1450
300
240
108
131
WSL1 4/7
1500
450
350
1450
400
240
145
150
WSL1 5/9
1500
450
450
1450
400
340
203
170
WSL1K 1/4
1500
450
450
1450
400
340
203
172
WSL1K 2/7
1500
550
450
1450
500
340
203
199
WSL1 6/16
1500
550
450
1450
500
340
253
179
WSL1 7/17
1600
655
500
1550
605
390
375
247
WSL1 8/18
1600
600
500
1550
550
390
341
225
WSL1 9/16
1600
550
500
1550
550
390
310
212
WSL1 10/20
1600
655
500
1550
605
390
375
237
WSL1 11/26
1600
850
500
1550
800
390
483
285
WSL1 12/14
1600
850
500
1550
800
390
483
296
*1: The outer measurements (depth) mentioned above will increase by 12 mm (Models WSL1 1 to 5) or by 60mm (Models WSL1 6 to 10) due to handle fittings and the lock.
Delivery & Assembly
Kostenlose Lieferung frei Bordsteinkante
0,00 CHF
539,00 CHF
Vertragen inkl. 1 Befestigung
638,00 CHF
Vertragen inkl. 2 Befestigung
737,00 CHF
Please note the following when purchasing a safe:
The weight of the safe must not exceed the maximum static weight of the installation location and transport route
The ordered safe must not be wider than the narrowest point of the transport route. (Note: Due to any protruding fittings/electronics as well as packaging material, the outer dimensions of the safe indicated may increase!)
For a smoother transport process, it is recommended to fill out the transport questionnaire and submit it to us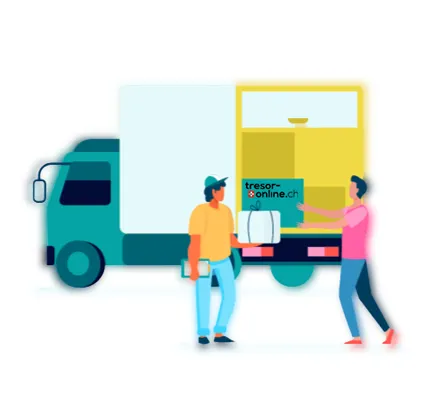 All information about delivery and assembly, as well as any possible costs can be found here: Delivery & Assembly.

If you have any further questions, please contact us at our toll-free hotline or our contact form: Consulting & Service. We are happy to assist you!
Note: We work exclusively with reputable specialized transport companies. If you have a special request for assembly or delivery, please feel free to contact us!
Characteristics
Security grade:
EN1 according to EN1143-1
Fire resistance:
Light fire protection
Mounting:
Prepared mounting holes: floor 1, back wall: 1
Ext. dim. HxWxD:
1600x850x500 mm
Int. dim. HxWxD:
1550x800x390 mm
Door Opening HxW:
1488x754 mm
Weight:
296 kg
Volume:
483 liter
Max. Weapons:
14
Shelves:
6
insurance:

CHF 5.000,-

CHF 5.000,-

standard sum insured private




standard sum insured commercial

certificates:
Available sizes

All models in this range
Similar products

More safes with similar product features