Format WF 145 Kombi S1 Gun Cabinet with key lock








Exclusive products
from renowned manufacturers
Description
Features of Format WF 145 Kombi S1 Gun Cabinet with key lock
Cost-Effective With Tested Security
The Format WF 100/145 S1 gun cabinet ensures decent protection from access to your rifles since it was tested and certified with security class S1 in accordance with the EN 14450.
Secure Safekeeping for Your Guns
A special safe manufactured for the storage/safekeeping of rifles - it is perfect for hunters, sports marksmen and gun collectors. Models with an internal safe can optionally be used for the storage of ammunition.
Chose Your Lock!
As a standard, the Format WF 100/145 S1 is furnished with a double mortise high-security lock (including two keys). If you should choose to, the Format WF 100/145 is also available with either a mechanic combination lock or a variety of easy to use electronic locks - and that only for a slight additional charge.
FORMAT - The Safe Company
Innovative power and technologically fully developed solutions are the cornerstones of the German manufacturer that symbolizes both quality and service, and that for over 30 years. Founded in 1989, this company now belongs to one of the leading safe specialists in Europe.
Quick Information: Type Format WF 100 / WF 145 S1
Security class S1 in accordance with EN 14450
External door hinges allow for a door opening angle of 180°
Fire-insulation through circumferential fire-fold
Featuring internal safe and cylinder lock(Height: 180 mm)
Model WF 145 combi is furnished with a shelf compartment
Collapsible handle, black (protruding approx. 12 mm)
Two sockets each for anchoring in the rear wall and base plate
Varnish: RAL 7024 (Graphite grey)
Quick Information: Double Mortise Lock

Approved double mortise high-security lock
Two keys
Length approx. 65 mm
Accessible only with the keys
Product Chart Format WF 100/145 S1
*1: The outer measurements (depth) mentioned above will increase by 12 mm due to handle fittings.
Delivery & Assembly
Kostenlose Lieferung frei Bordsteinkante
0,00 CHF
Vertragen Verwendungsort FORMAT
239,00 CHF
Vertragen inkl. 1 Befestigung FORMAT
378,00 CHF
Vertragen inkl. 2 Befestigung FORMAT
517,00 CHF
Please note the following when purchasing a safe:
The weight of the safe must not exceed the maximum static weight of the installation location and transport route
The ordered safe must not be wider than the narrowest point of the transport route. (Note: Due to any protruding fittings/electronics as well as packaging material, the outer dimensions of the safe indicated may increase!)
For a smoother transport process, it is recommended to fill out the transport questionnaire and submit it to us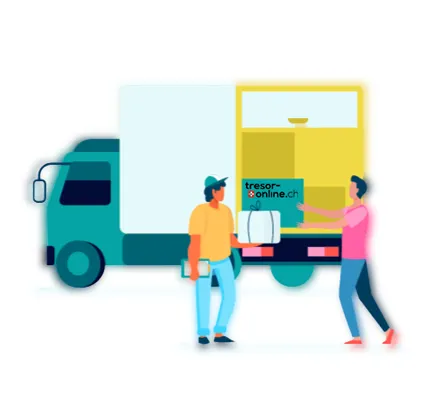 All information about delivery and assembly, as well as any possible costs can be found here: Delivery & Assembly.

If you have any further questions, please contact us at our toll-free hotline or our contact form: Consulting & Service. We are happy to assist you!
Note: We work exclusively with reputable specialized transport companies. If you have a special request for assembly or delivery, please feel free to contact us!
Characteristics
Security grade:
S1 according to EN14450
Fire resistance:
Light fire protection
Mounting:
Prepared mounting holes: floor 2, back wall: 2
Ext. dim. HxWxD:
1450x500x370 mm

Int. dim. HxWxD:
1444x494x305 mm
Door Opening HxW:
1360x410 mm

Weight:
95 kg
Max. files:
6
Max. Weapons:
5
Shelves:
3

insurance:
CHF-
CHF,-
standard sum insured private
standard sum insured commercial
certificates:


Similar products

More safes with similar product features