Sistec SB 450 Furniture Safe with key lock








Exclusive products
from renowned manufacturers
Description
Features of Sistec SB 450 Furniture Safe with key lock
Certified burglary protection
The Sistec SB furniture safes guarantee the best protection for your documents, valuables or cash because of their certified and tested security class S2 according to EN 14450. With one of these safes, your assets are ideally protected against any attempted break-in.
Lock of your choice!
The SB furniture safes are equipped with a double-bit high-security lock including 2 keys as standard. You can have the electronic lock PS310 built in according to your wishes and at an additional price.
Special feature
The entire body of the furniture safe SB consists of a filling with a patented composition, which makes it possible to keep the security standard very high despite its low weight. The minimal weight provides great advantages in terms of delivery and assembly.
SISTEC - Quality Made in Germany
This German company has successfully produced and sold the finest data and value protection safes. The manufacturer is one of the most popular producers thanks to an excellent price-performance value.
Quick Information: Type Sistec SB Furniture Safe
Security class S2 according to EN 14450
Door thickness - 30 mm
Double-walled corpus
3-sided locking
Lock anti-drill
Equipped with a double-bit high-security lock and 2 keys as standard
socktes prepared for anchoring in the floor and back wall
Varnish: RAL 7024 (graphite grey), RAL 7035 (light grey) available upon request
Quick Information: Double Mortise Lock

Approved security lock
Two Keys
Accessible only with the keys
MODEL
Outer measurements in mm
Inner measurements in mm
Capacity
Weight
Height
Width
Depth *1
Height
Width
Depth
(L)
(kg)
SB 220
200
350
300
140
270
190
7
15
SB 300
300
445
400
220
365
296
24
26
SB 450
450
445
400
370
365
296
40
35
SB 600
600
445
400
520
365
296
56
43
SB 800
800
445
400
720
365
296
78
55
SB 1000
1000
445
400
920
365
296
99
65
*1: The outer measurements mentioned above (depth) will enhance by approx. 15 mm due to protruding fittings.
Delivery & Assembly
Kostenlose Lieferung frei Bordsteinkante
0,00 CHF
Vertragen Verwendungsort SISTEC
319,00 CHF
Vertragen inkl. 1 Befestigung SISTEC
388,00 CHF
Vertragen inkl. 2 Befestigungen SISTEC
457,00 CHF
Please note the following when purchasing a safe:
The weight of the safe must not exceed the maximum static weight of the installation location and transport route
The ordered safe must not be wider than the narrowest point of the transport route. (Note: Due to any protruding fittings/electronics as well as packaging material, the outer dimensions of the safe indicated may increase!)
For a smoother transport process, it is recommended to fill out the transport questionnaire and submit it to us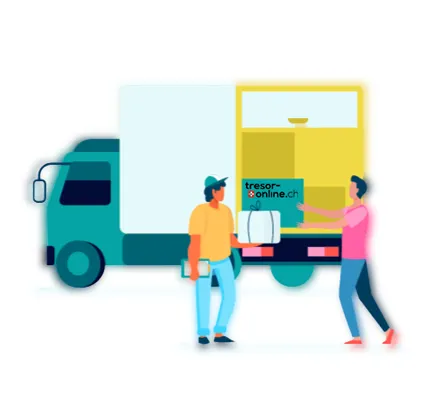 All information about delivery and assembly, as well as any possible costs can be found here: Delivery & Assembly.

If you have any further questions, please contact us at our toll-free hotline or our contact form: Consulting & Service. We are happy to assist you!
Note: We work exclusively with reputable specialized transport companies. If you have a special request for assembly or delivery, please feel free to contact us!
Characteristics
Security grade:
S2 according to EN14450
Fire resistance:
Light fire protection
Mounting:
Prepared mounting holes: floor 2, back wall: 1
Ext. dim. HxWxD:
450x445x400 mm

Int. dim. HxWxD:
370x365x296 mm

Weight:
35 kg

Volume:
40 liter
Max. files:
4
Shelves:
1

insurance:
CHF-
CHF,-
standard sum insured private
standard sum insured commercial
certificates:


Available sizes

All models in this range
Similar products

More safes with similar product features