Primat 1035 Value Protection Safe EN1 with key lock








Exclusive products
from renowned manufacturers
Description
Features of Primat 1035 Value Protection Safe EN1 with key lock
Ideal for Retail and Private Areas
Our best-selling series comes at security level 0 to 5. Exceptional protection from theft is guaranteed by their skillful craftsmanship. It is without question that these safes were certified by the VdS (The most important criterion to testify the mentioned security class).
Security Enabled by Quality
These safes are filled with fire resistant materials in accordance to DIN 4102, which protects your valuables from fires. A tightly closing fire fold is additionally built into the casing, which will seal the safe during heat exposure. A sleek casing ensures that there are no points of access and simultaneously protects from someone removing the safe. All of this is completed by an exceptionally strong locking mechanism disabling the forceful opening.
Modern and Reliable
The usage of innovative materials allows for maximum security and optimal interior furnishings despite an insignificant weight. When it comes to the product design we count on functionally granted by, for example, inlay door-hinges. As a standard, these safes are prepared with four holes for anchoring (Two of them in the base plate and two in the rear wall).
PRIMAT - Certified Security - Perfect Protection
The company Primat is a renowned manufacturer with a product range starting from furniture safes, over gun cabinets and value protection safes to strongrooms and fire resistant file cabinets. Since 1901, this company produces safes which not only align with the current norms and laws, but always manage to go beyond them. A reliable partner when it comes to the best possible storage of your valuables.
Quick Information: Type Primat EN1
Security class 1 in accordance with EN-1143-1
Sleek casing without any access-points
Strong locking disables the forceful opening of the door
Three-way lock (40x10 mm square bolts) (Models 1015 - 1410)
Four-way lock (40 mm round bolts) (Models 1535 - 1780)
Multi-layered casing and wall
Highly heat resistant filling in door and casing
Tight-closing fire fold between casing and door
Height-adjustable shelves at every 50 mm (Models 1015 - 1410)
Height-adjustable shelves at every 25 mm (Models 1535 - 1780)
Standardized handle: 1015-1085: collapsible handle, 1095-1780: hanging handle
Fittings protruding approx. 45 mm
One socket for anchoring in the base plate and one socket (not drilled through) for anchoring in the rear wall (Models 1780: two sockets in the rear wall)
Varnish: RAL 7035 (Light grey)
Quick Information: Double Mortise Lock

Approved security lock
Certified in accordance with EN 1300 at class B
Two Keys
Accessible only with the keys
Delivery and Assembly Service
FREE OF CHARGE delivery to your doorstep!
If requested, we offer delivery to the point of installation!
Professional installation of the safe is provided for only a slight extra charge!
Please note when purchasing this safe:
The safe's weight must not exceed the maximal static load of neither the delivery way nor the place of installation.
The ordered safe must not be wider than the delivery way's narrowest point (Please note: The provided measurements of the safe might be bigger due to fittings / electronics and packaging material!).
For a smoother execution of the delivery commission we would encourage you to complete and submit our transport questionnaire
Further information for both delivery and installation, as well as possible extra charges, can be found here: Delivery & Installation.
If additional questions should arise, please contact us through our FREE OF CHARGE HOTLINE or through our contact form: Consultation & Service. We would love to be of assistance!
Information: We exclusively work together with reputable specialized transport enterprises. Feel free to contact us if you should have any special requests concerning the delivery and installation.
MODEL
Outer measurements in mm
Inner measurements in mm
Capacity
Weight
Height
Depth
Width *1
Height *2
Depth
Width
(L)
(kg)
1015
410
335
300
334
275
180
17
55
1025
410
415
345
334
355
225
27
75
1035
410
415
425
334
355
305
36
85
1055
585
415
425
509
355
305
55
105
1085
585
515
495
509
455
375
87
130
1095
770
515
425
694
455
305
96
155
1120
940
515
425
864
455
305
120
180
1180
1120
515
495
1044
455
375
178
225
1240
1120
665
495
1044
605
375
237
260
1410
1475
765
535
1399
705
415
409
375
1535
1850
840
580
1720
730
415
521
495
1780
1850
1190
580
1720
1080
415
771
665
*1: The outer measurements (depth) mentioned above will increase by 45 mm due to handle fittings and the lock.
*2: Models 1095: If the lock option
Fingerprint FinKey
is chosen, the safe's inner height measurements will be diminished by approx. 20 mm.
Delivery & Assembly
Kostenlose Lieferung frei Bordsteinkante
0,00 CHF
329,00 CHF
Vertragen inkl. 1 Befestigung
428,00 CHF
Vertragen inkl. 2 Befestigung
527,00 CHF
Please note the following when purchasing a safe:
The weight of the safe must not exceed the maximum static weight of the installation location and transport route
The ordered safe must not be wider than the narrowest point of the transport route. (Note: Due to any protruding fittings/electronics as well as packaging material, the outer dimensions of the safe indicated may increase!)
For a smoother transport process, it is recommended to fill out the transport questionnaire and submit it to us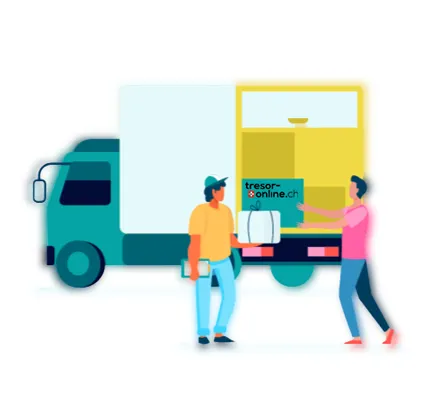 All information about delivery and assembly, as well as any possible costs can be found here: Delivery & Assembly.

If you have any further questions, please contact us at our toll-free hotline or our contact form: Consulting & Service. We are happy to assist you!
Note: We work exclusively with reputable specialized transport companies. If you have a special request for assembly or delivery, please feel free to contact us!
Characteristics
Security grade:
EN1 according to EN1143-1
Fire resistance:
Light fire protection
Mounting:
Prepared mounting holes: floor 1, back wall: 1
Ext. dim. HxWxD:
410x415x425 mm
Int. dim. HxWxD:
334x355x305 mm
Door Opening HxW:
323x325 mm
Weight:
85 kg
Volume:
36 liter
Max. files:
4
Shelves:
0
insurance:

CHF 5.000,-

CHF 5.000,-

standard sum insured private




standard sum insured commercial

certificates:
Available sizes

All models in this range
Similar products

More safes with similar product features